Valentines is fast approaching, what better way to tell your partner that "no one be like you" then with good food, romantic reggae, and a chill vibe. If Paris is the city of love, then Guanabana is the restaurant of romance. It's the perfect place for first dates. We've even had a couple weddings! Treat your partner to an experience they will always remember. For only £30 per head, you can enjoy a 3 course meal from our new limited edition valentines menu. Its only for one day, an opportunity you can't miss out on!
Whats new?
This Valentines, we decided to branch out and do some african dishes. One of these being the mixed seafood fry up platter. This starter includes calamari, fried prawn, white bait, mussels, and fried cassava. Great for sharing with that certain someone. We also Surf and Turf Suya. This dish combines fried Suya shrimp and chopped Suya steak. Suya is a popular african dish typically served on a skewer and marinated in spicy Suya seasoning. Got a sweet tooth? We got you covered with our in house baked gooey plantain and chocolate cake. Bursting with flavours from the Caribbean. Our vegan option is a refreshing Guanabana sorbet sundae made at our sister shop Mamasons, who specialises in filipino desserts and ice creams.
A delicious Nigerian dish of suya spiced rump steak, suya grilled prawns, asaro, eaw agoyin sauce, pottage and fried plantain
BYOB
Want to enjoy some bubbly on your special night? We got you covered. For only £5 extra, you can bring as much booze as you want. Bring that special red you've been saving for that special someone. Or impress you're missus and bring in a bottle of Don Perignon.
DIETARY REQUIREMENTS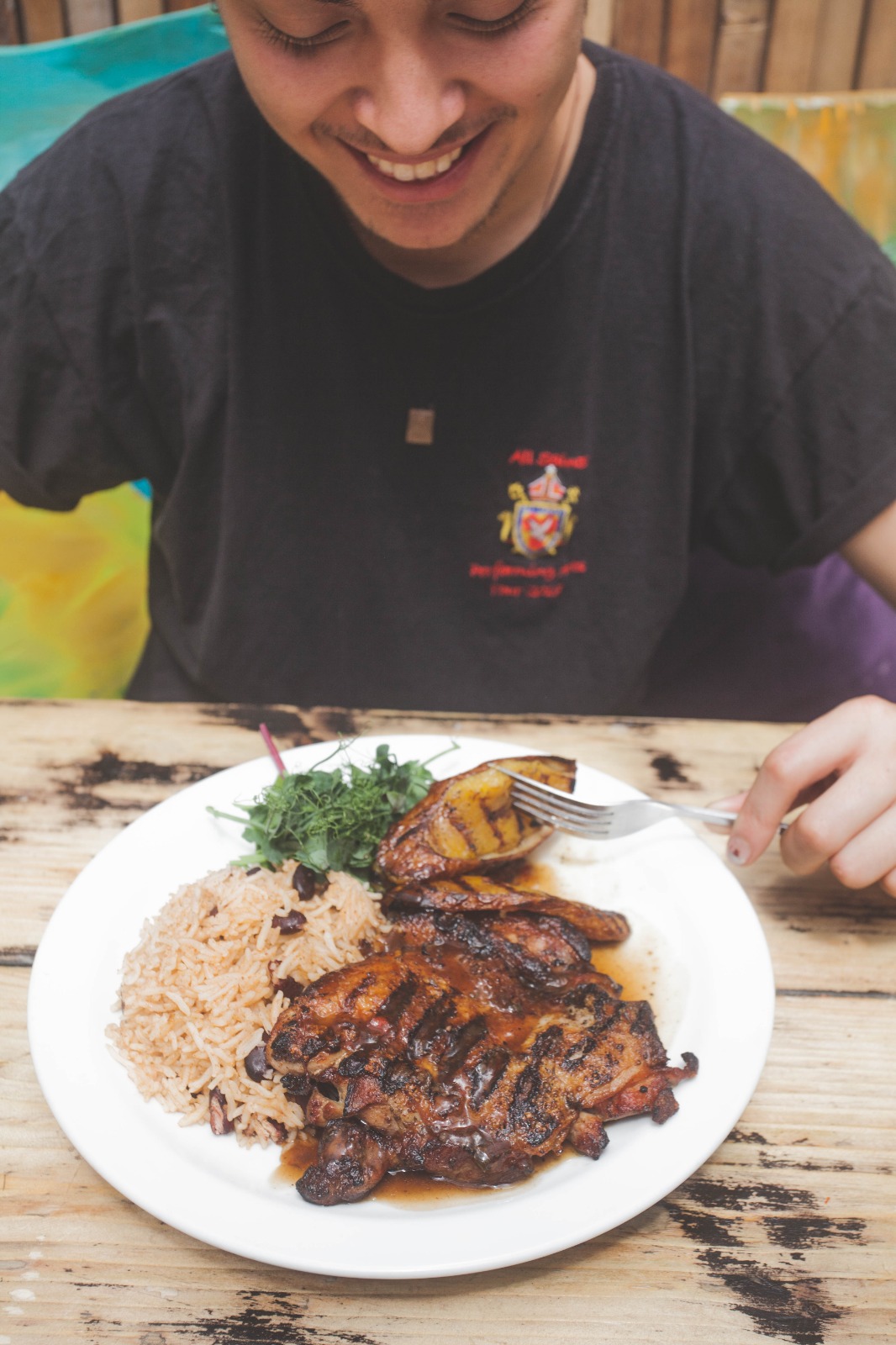 Coal Grilled Jerk CHicken
If there's one reason to get yourself to Guanabana, its the Jerk Chicken. Marinated overnight and cooked on hot wood coal for that authentic smoky flavour.
At Guanabana we believe it is necessary to cater to everyone. Not only are we fully halal- just like all your sister restaurants - but we also have many vegan, vegetarian, gluten free, and pescatarian options. But thats not all, even our drinks are all non-alcoholic. All made with love.
WHERE?
Guanabana is located on 85 Kentish town road (near Camen market). We are only 3 minutes from Camden Road station and a further 5 minutes from Camden Town station.
Pan fried seabass, feta mash, clam coconut herb sauce